The Front Room
The front room contains a fireplace, storage space built into the wall itself as well as many unique items.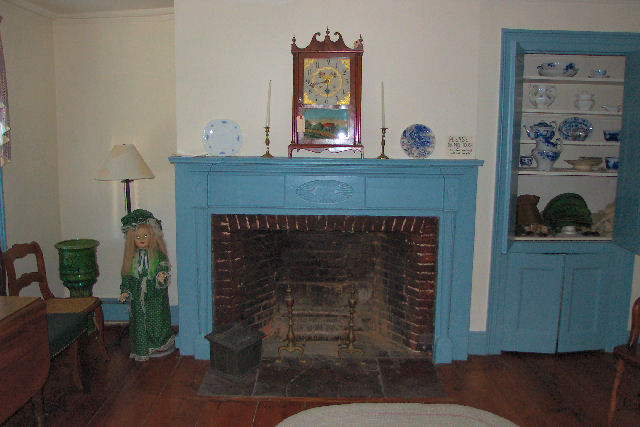 Entering the front room you see the main fireplace and the built in wall storage. The society has acquired Emma Woodruff's wedding bonnet (circa 1860) that is now stored in the cupboard. We have also acquired a soup tureen and pitcher that we have verified where once used in the house. Button hook baby shoes and other dishware round out the cupboard collection.
On the mantel is a clock circa 1824.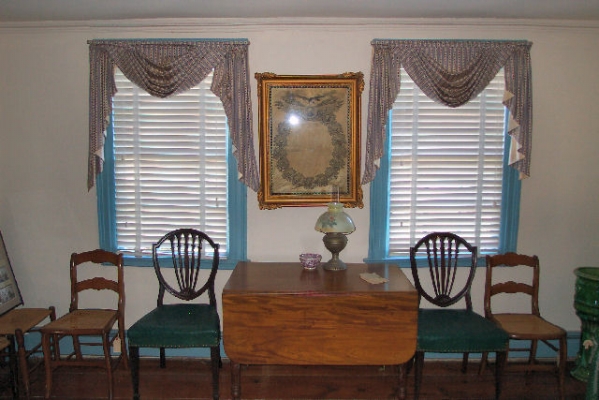 Turning left you are now looking out the front of the house. Framed between the two windows is a copy of the Declaration of Independence written on silk cloth in the early 1800's. This item was donated by society member Marion Earl and comes from her estate. Marion Earl was a direct descendant of many of Elizabethtowns original settlers.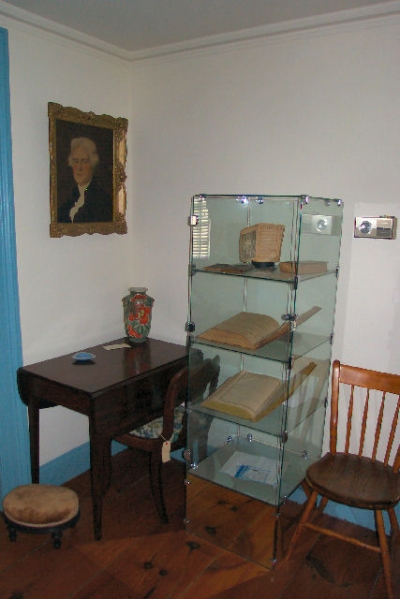 Looking in the corner you will see a portrait of Thomas Jefferson donated by Al Mading. . In the display case are the Woodruff and Earl family bibles. They are opened to the birth and death records of the family which were recorded in the family bible. The woodruff family bible has dates going back to before the house was built. The table and chairs you see here where donated by Jane Eaton Schorr's cousin Marian Kraft. Matt and Helen Witting drove to Florida to retrieve these items for the society.